Shake, Rattle and Roll 2k5 (2005)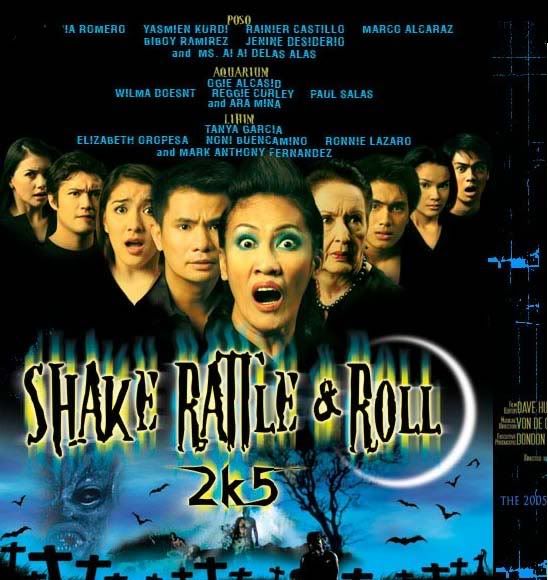 IMDb Link
Code: Select all
Plot: Poso (The Well) Is about a fake occultist (Ai Ai delas Alas) who retires when her last job goes terribly wrong. But when a wealthy client (Miss Gloria Romero) promises Ai Ai a huge fee to contact Gloria's dead grandson (Marco Alcaraz), the comedy queen can't refuse. Together with her assistants-in-crime (Rainier Castillo, Jenine Desiderio, and Biboy Ramirez), they take on this last job, only to realize that they may not live to see another day. 

Aquarium Is about a family which has just moved into a new condo unit. There, they are terrorized by a creature lurking in an aquarium left behind by the previous tenants. Ogie Alcasid & Ara Mina play the husband & wife whose cozy condo is turned into a domicile of doom by the creature. 

Lihim Ng San Joaquin (Secrets of San Joaquin) A husband (Mark Anthony Fernandez) and his pregnant wife (Tanya Garcia) fear for the life of their unborn child when they move into a sleepy rural town whose residents harbor a disturbing secret. What the newlywed couple didn't know is that their neighbors are in fact ASWANGS with an insatiable thirst for newborn infants. 
INFO :
Code: Select all
Year:  2005 
Country:  Philippines 
Language:  Tagalog,  Filipino 
Subs: English Hardcoded 
Filmed in:  Color 
Runtime:  110 minutes 
Duration:  1:49:26 min 
Format:  Full Screen 
Ripped from:  DVD rip 
Codec:  Xvid 
Frames Per Second:  23.98 

ED2K Link:
ed2k://|file|Tagalog%20Movie%20-%20Shake%20Rattle%20&%20Roll%202K5%20(2005)%20DVDRip%20Xvid%20Eng%20Subs.avi|734263296|FD16ACEAFA75322E0E70A19FCEC538FA|/
Screens: